Earth Friendly Sustainable Packing List
Our Earth Friendly Sustainable Packing List is full of ethical, sustainable, and zero-waste products. Everything you need to travel the world, minus the guilt.
Packing Up a Conscious Lifestyle for the Road
Welcome to the Sustainable Packing List. If you're a frequent Pack Hacker visitor, you may have noticed we care about the sustainability practices and longevity of the brands and products we test. While traveling sustainably is a widely-debated topic and we recognize jetting off to another country on a plane that uses massive amounts of fuel and emits jaw-dropping levels of carbon into the atmosphere isn't exactly the most earth-friendly thing to do…we believe making small choices can make a difference. (We do also recognize that many airlines are doing their part to offer various types of carbon offset options and we hope to see this improve with time.)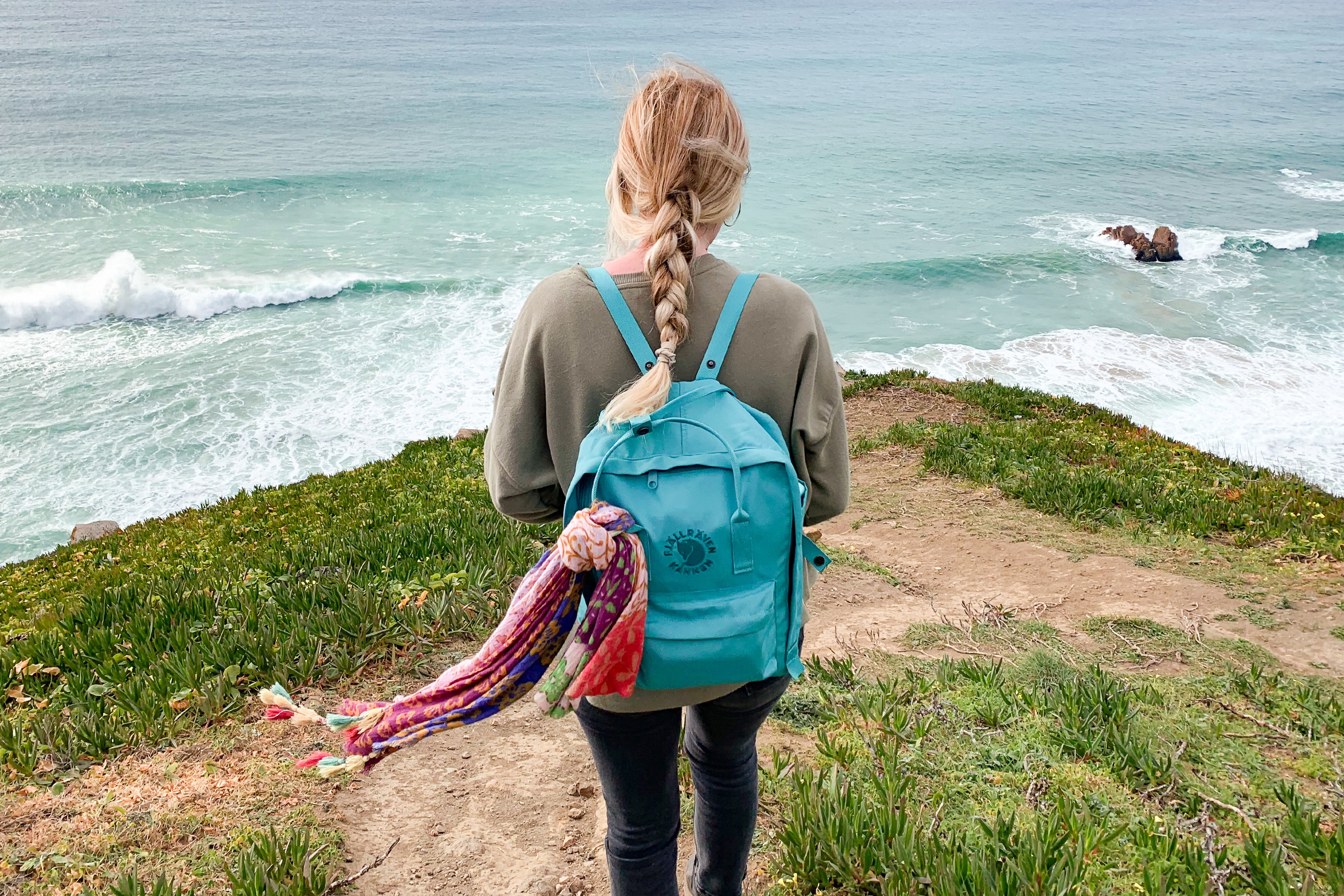 We created this packing list to help you create less waste on the road and guide you towards a zero waste lifestyle filled with eco-friendly products and tips to reduce your impact—all of which can fit easily into one backpack. The bag, tech & productivity sections of our list are all unisex, while clothing & accessories, toiletries & personal care and miscellaneous are split into men's or women's focused items.
We've done our research, cut through the marketing and greenwashing bullsh*t, and tested out some of the most sustainable products on the market to find what works best while fulfilling your travel needs.
We should mention that traveling sustainably does not mean you have to buy everything on this list. If you already own a pair of sneakers that have lasted two years and they're still going strong, there's no need to rush out and buy new sneakers made from recycled plastics. That kind of defeats the purpose. You should keep our recommendations in mind for when you truly need to buy new gear and think of every dollar you do spend on new sustainable gear as a vote for the earth.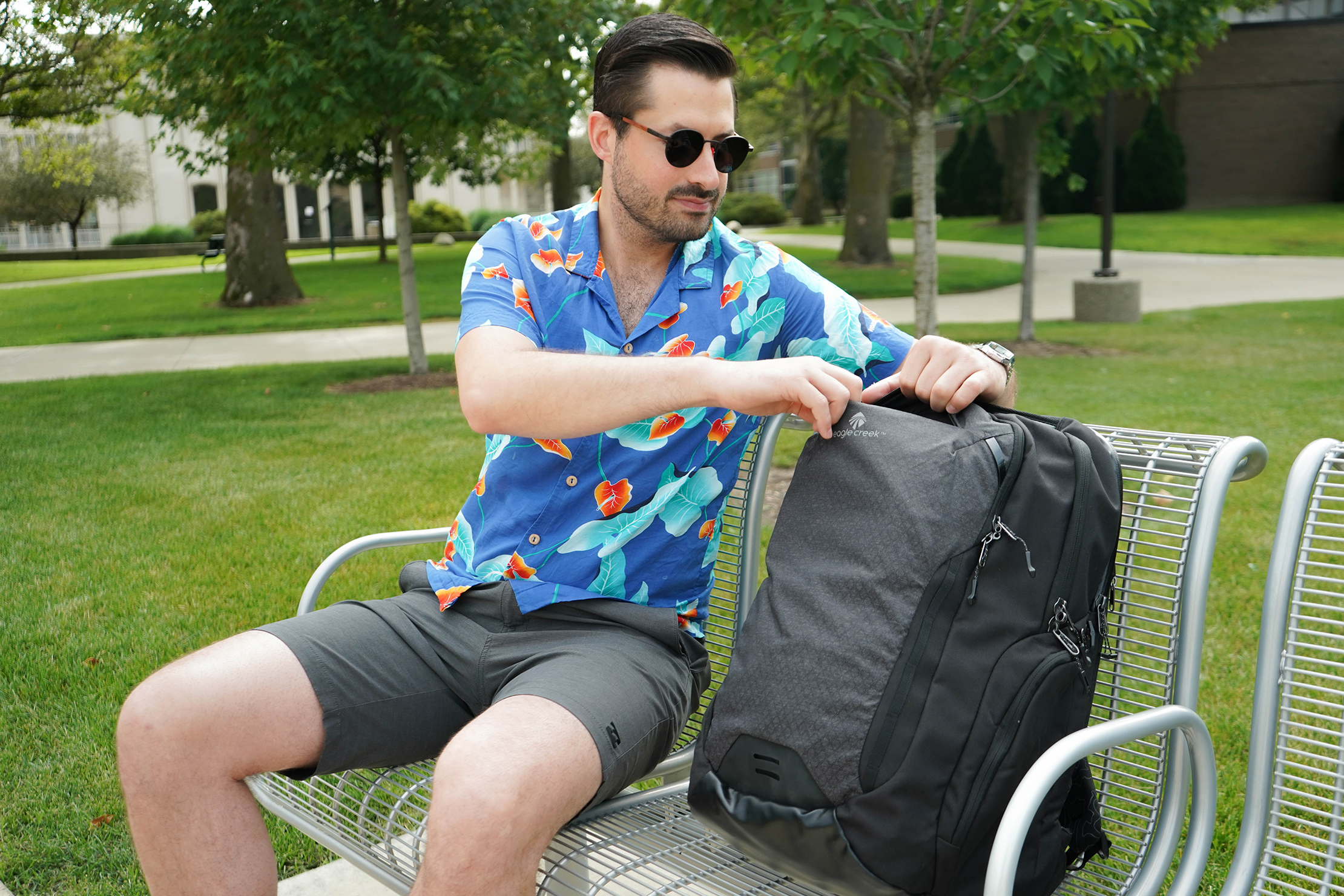 With that being said, we also recognize that not all products we travel with are necessarily sustainable, such as tech gear. Laptops, cell phones, charging cables, and similar items are yet to have eco-friendly alternatives. Not owning them would truly be the best low-impact option, but the reality is that we—along with lots of other people—need these things to do our jobs.
For products like these, we recommend durable options that will last multiple years, have stellar warranties, or are simply the best option on the market at this moment. We are trying our best! However, as always, give us a shout if you think you have better options in mind—we'd love to hear about them.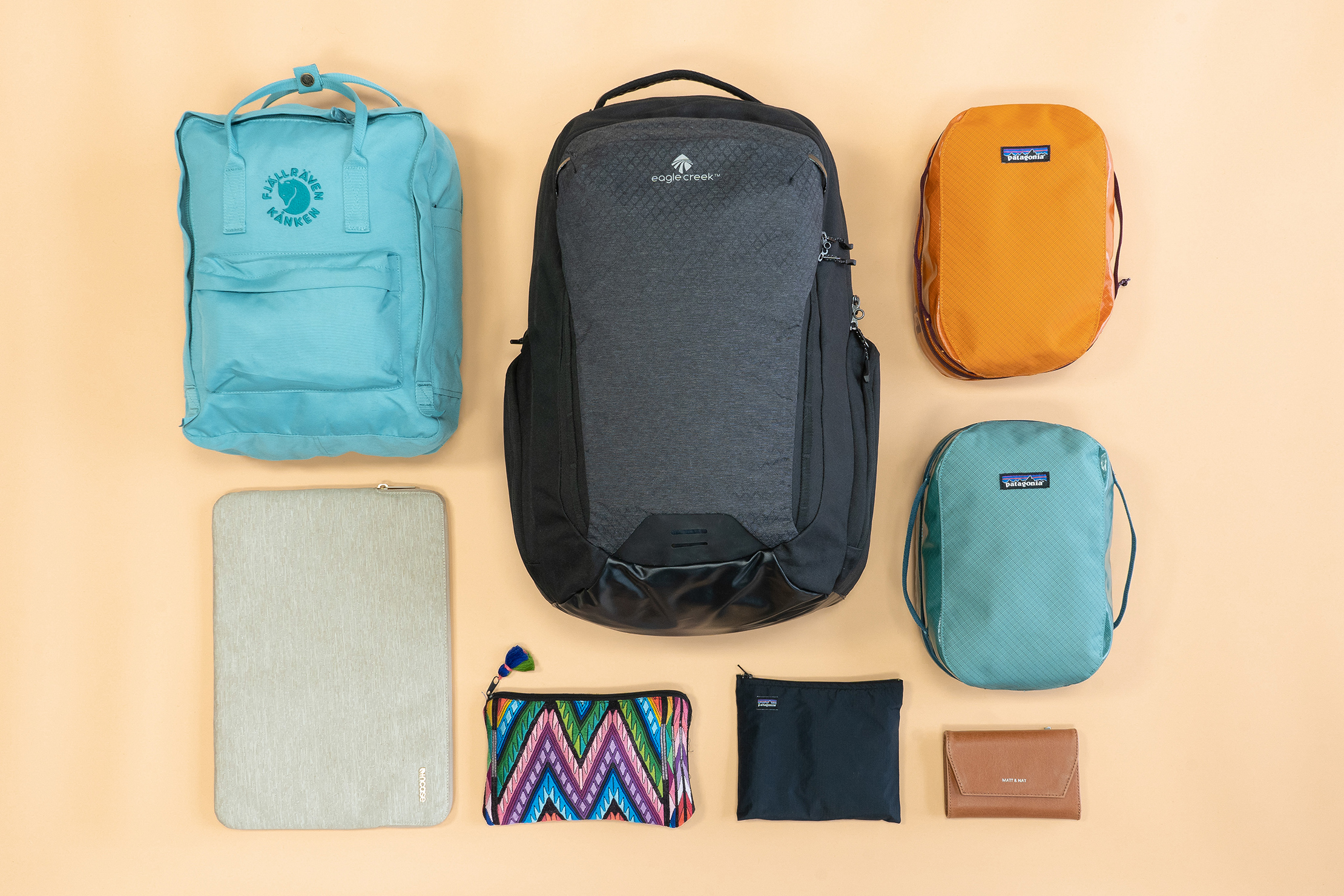 Standalone Bags & Organizers
These items will carry and organize all of your travel belongings. They will be what you board the plane with, catch the bus wearing, and unpack at your destination. This is a short section because when taking a one bag travel approach, all you really need are the essentials. So here they are!
Designed with a sustainable approach, the Wayfinder Backpack uses recycled materials and bluesign™ approved fabrics to create a versatile and lightweight pack to take with you anywhere—except the landfill. Eagle Creek even opted to use broken car windshields from the landfill to create a water-resistant coating, because apparently, that's a thing now (and it's totally awesome). We expect this pack to last a long time while reducing your footprint—and that's a win-win in our book.
The Re-Kånken is not only created from 100% recycled plastic bottles, but it can even be recycled again in the faraway future. The pack uses SpinDye technology, which reduces the amount of water, energy, and chemicals used during its production. It can also fit a 15-inch laptop with a case, which is great when packing up your daypack for a day of work at a coffee shop or coworking space.
Clothing & Accessories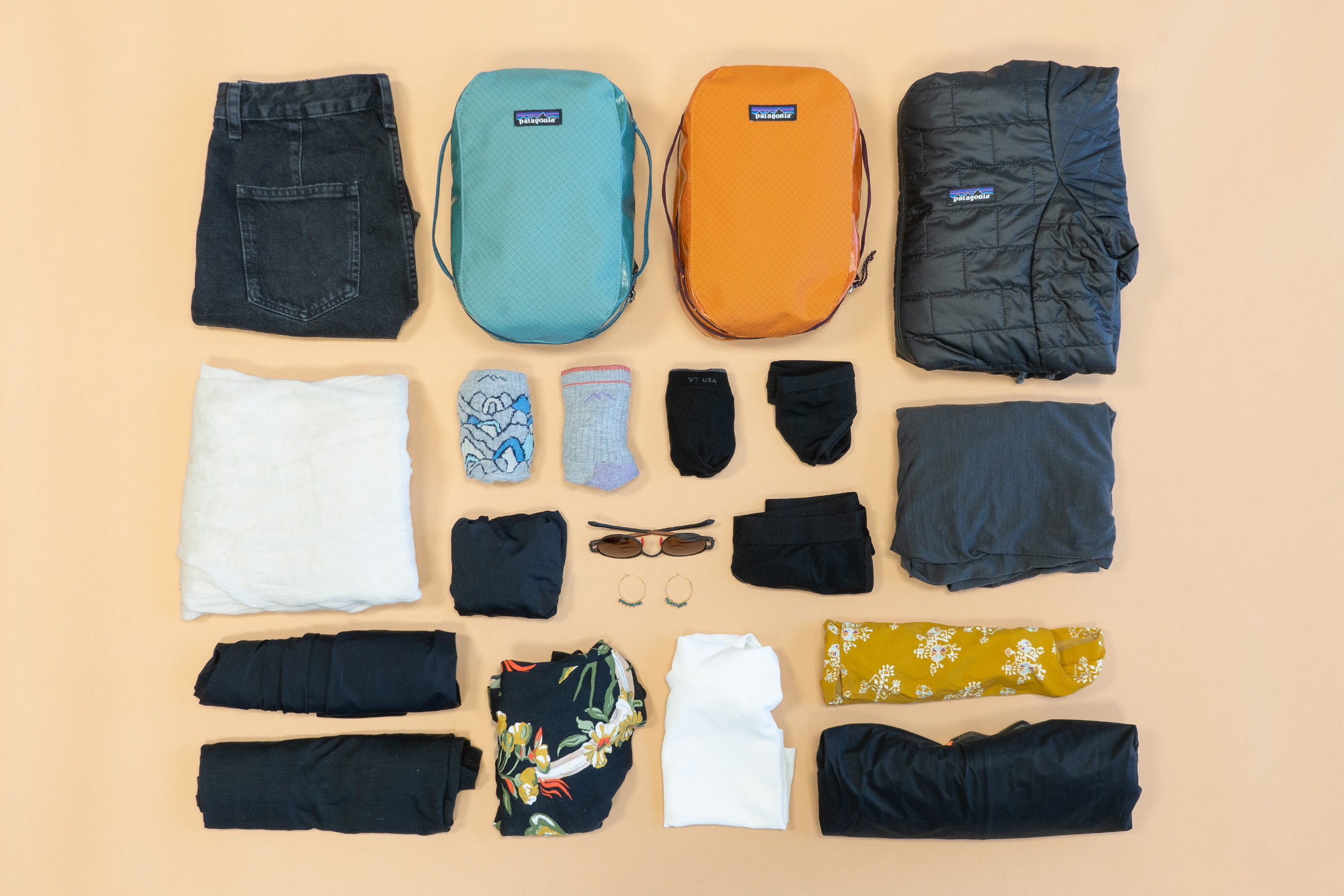 Out with fast-fashion and in with ethically-made clothing! In this wardrobe, we're focused on durable, responsibly-sourced clothing. Most of these pieces can be used interchangeably with other pieces to create a capsule wardrobe—we've found it's best to choose solid colors and a pop of pattern or accessories to spice things up, but we'll get into that more throughout the list. Again, if you already have pieces of clothing that you love, don't rush out to buy new. We also recommend checking out Poshmark or your local second-hand shop for similar alternatives to the following—you never know what you might find!
Soft, breathable, comfortable. Three words you definitely want to hear about the underwear you'll be traveling with. Everlane even gives you an inside look at their ethical practices and details about the specific factory where they're made in Kandy, Sri Lanka.
Everlane says this is "the bra that goes under everything" and we'd have to agree. It's versatile, soft, double-layered, and offers support without the underwire. We suggest grabbing one in black and one in a neutral tone. Similar to The Bikini, you can check out the exact factory details where these are made if you're so inclined.
Designed to last, these pants will be your go-to pair once you're in them. With just the right amount of stretch, they're versatile and made with your comfort in mind. If blue jeans are more your style, Everlane has those too. Of course, they're all produced sustainably and transparently.
Stretchy pants are a staple for us when traveling. You can wear these leggings to bed on a chilly night, during transit for extra comfort, on a jog through the new town you're exploring, or simply as daily wear. Girlfriend Collective goes above and beyond to use recycled water bottles from Taiwan (once known as Garbage Island) to create their non-pilling recycled fabric.
These shorts are versatile and super lightweight. We opted for a patterned pair to spice up our wardrobe, but by all means—choose as you please. A solid top looks great with these or simply slip them on over your bathing suit since they're great for the beach too. Made from bluesign® approved 100% recycled nylon.
We don't typically travel with 100% cotton clothing pieces, but this shirt has proven its worth and Everlane has gone above and beyond to be transparent with their production process. A super versatile, basic tee that is one of the most comfortable we've ever put on. What's not to like?
This 100% organic-cotton convertible tee can be worn with the v-neck in the front or back and is a bit more stylish than your average tee. It's great for nice restaurants or client meetings on the road. We recommend checking out some of Vetta's other capsule wardrobe offerings as well.
This top can be worn more than five ways. If you really wanted to, you could wear this a different way every day of the week and not be repeating an outfit—which can come in handy when you're traveling for long periods. It is ethically-made in Toronto, Canada with plant-based fabrics that are free of harmful chemicals.
Vitamin A offers multiple options for swimsuits that can be worn as bodysuits whenever you're not in the water. Perfect for one bag travel, and made with their EcoLux fabric (AKA, recycled nylon fiber) in California. These folks are continually looking for new ways to be more sustainable, and we appreciate that.
Reformation says, "Being naked is the #1 most sustainable option. We're #2." Luckily, they offer a ton of dresses so you don't have to travel naked. If you want to check out their sustainability initiatives more, take a look at their yearly reports.
These shoes can be worn with jeans, shorts or a dress. They're also made with 100% post-consumer water bottles, recycled foam, vegan & non-toxic adhesives, and carbon-free rubber soles. Although we don't love the signature blue Rothy's stripe on the back (which is like, just our opinion…), their comfort and versatility overrule this minor detail.
Choose one of Thought's ethically produced scarves made from sustainably-sourced bamboo, wool, or recycled PET bottles and both your neck and conscience will thank you. We've been loving the bamboo scarfs—they're soft to the touch and are great for staying cozy on transportation or wrapping around your waist at the beach.
We love Thirty One Bits because all of their stuff is ethically-made by artisans around the world, and they provide fair wage to their workers in addition to clean and safe workspaces. They are continually putting out beautiful jewelry, and these earrings are one of our favorite pairs for the road. We suggest a pair of basic studs or hoops along with a statement pair—that way you can pair them with a simple outfit and really make a…wait for it…STATEMENT!
We probably don't have to sell you on jeans—you know why you love them. This pair from Patagonia is Fair Trade Certified™ sewn and dyed in a way that minimizes water and energy use as well as carbon dioxide emissions (compared to traditional dyeing processes, but let's be real dyeing is still not super eco-groovy). Plus, they're made from 71% organic cotton and have a polished, tapered fit.
What's the point of buying pants that'll last you years if they'll be out of style in a few months? Everlane is all about designing clothes that are as timeless as they are durable, and these chinos are no exception. But classic doesn't mean old-fashioned—these pants are sweat-wicking, quick-drying, and have a 4-way stretch. Better yet, with Everlane's commitment to visibility, you can see the breakdown of what exactly you're paying for and the conditions of the factory where these chinos are made in Jiangmen, China.
Forget the boxer briefs of eld and opt for a pair with modern features like these briefs from Patagonia. They're moisture-wicking, quick-drying, chafe-free, comfortable, and the legs won't slip, ride-up, or roll. If those features don't impress you, these boxers are also made from recycled nylon and are bluesignⓇ approved. And if you're not impressed by all that, then you must have incredibly high standards for your boxers.
If comfort is key, these shoes are a lock with the perfect fit. They're made with merino wool, which is a natural way to get soft, breathable, and moisture-wicking comfort all day long. But, it doesn't end there! The midsole (the squishy bit between the upper and the outsole) is made with carbon negative Brazilian sugarcane, the insole is made with layered castor bean and even more merino wool, and the laces are made with 100% polyester made from recycled water bottles. They're so comfortable that you'll be happy to wear them every day, but the best part is that the materials naturally fight odors, so they can handle all the use they'll inevitably get.
These sandals are intended to mimic walking barefoot and, without the padding and support you'll find on more "traditional" western-style shoes, need to be broken in slowly. Seriously, don't buy these and go on a 14-mile hike the next day. Minimalist shoes are beneficial for numerous reasons (we don't have time to discuss them all here), but just know that these sandals are super lightweight and flexible, which makes them great to pack. Plus, they're versatile—you can wear them running, hiking, on the beach, at the pool, wherever (just be prepared for some curious looks).
Shorts that can be worn as swim trunks—versatility at its finest. These shorts, made from 100% recycled nylon, are also comfortable, breathable, and quick-drying. Available in a wide variety of colorways and patterns, you can find a style that speaks to your soul (for us, that's usually black). And, of course, being from Patagonia, these shorts are bluesign® approved and Fair Trade Certified sewn.
A clever name for a clever shirt, this tee is made from plastic bottles and fabric scraps. Need we say more? Actually, we do need to say more, since this shirt is comfortable, durable, and fits in a loose, yet somehow tailored way—making it ideal for everyday wear. You will have to be okay proclaiming your love of Patagonia to the world since its logo is not only stamped on the front pocket but also mega-sized on the back.
This shirt has everything you want in a basic tee—style, comfort, durability, and did we mention comfort? Amour Vert, which is French for Green Love, is dedicated to ethical and sustainable fashion. This tee is not only made from 100% organic cotton, but with every purchase Amour Vert plants a tree in North America, which we can all agree is pretty neat. And if you're not a v-neck kind of guy, Amour Vert has a crew neck style as well.
You can't leave home without the classic hoodie. It's cozy, makes the perfect pillow during a flight, and will keep you toasty on a chilly day. It can also be worn under your denim jacket for some extra style and warmth points! This one from Amour Vert is made from 100% organic cotton with enough subtle detailing that you won't look like you belong on your couch, binge-watching The Office for the thousandth time (though it's perfect for that too—we know from experience).
When it's too hot for even the shortest of sleeves, this is a great tank to reach for. It's quick-drying, sweat-wicking, and not-too-athletic looking—so you can wear it trail running and bar hopping. Its best feature? Odor-control, baby. At this point, we've mentioned Patagonia's environmental and ethical commitments numerous times, so we'll assume you've got that down. NOTE: Patagonia is in the process of updating the Capilene line to provide 50+ UPF protection, so availability may be limited.
Although the Patagonia Baggies™ we mentioned above can be worn as swim trunks, it's nice to have a dedicated pair if you're going to be traveling anywhere near water. These shorts are made from 100% recycled water bottles, and the packaging is all biodegradable. A few other features to note: these shorts are quick-drying, stretchy (or as Dock & Bay says, buffet-friendly), and backed by a 12-month warranty.
A sun mask, commonly referred to by the brand name Buff (similar to how some people call tissues Kleenex), protects you from the elements if you'll be spending extended time outside. This one can be worn 12 different ways, like as a balaclava, headband, wristband or neck gaiter (scarf). In the heat, it helps keep sweat from dripping into your eyes and protects your skin from the sun with UPF 50+ protection. In the cold, it's a nice extra layer and can keep your face from getting wind-burned. And, no matter the weather, you can use it as an eye mask to catch some zzzs. This particular sun mask is constructed with 95% polyester made with recycled water bottles, so you can protect the environment as well as your face.
These are quickly becoming our go-to ethically-made packing cubes. Patagonia continually strives to create products with less impact on the environment and they haven't let us down yet. These are made of highly durable materials and use a clamshell style approach to compress your items securely. Plus, they come with Patagonia's Ironclad Guarantee.
We're not going to repeat ourselves—you'll find the same durability and warranty here as you did on the socks above. We've opted for two boot-style socks because they're comfy as hell and are great to have on hand for chilly flights or cold mornings in your Airbnb. Of course, you can sub these out for whatever style you'd like.
Durable—the one word you need to know when thinking about Darn Tough socks. To top it off, these no-show socks offer a slightly ridiculous lifetime warranty. In fact, you may never have to worry about purchasing another pair of socks. (Really, it's true.) We like having one pair of no-show socks that can be worn with minimalist footwear.
Made from bluesign® approved 100% recycled polyester ripstop with ethically-manufactured synthetic insulation, this jacket will keep you warm on a chilly summer evening or snowy morning in the mountains of Colorado. It also packs down into its own pocket, making it perfect for one bag or minimal travel. Check out Patagonia's Footprint Chronicles for the material & manufacturing details.
By this point, you may have noticed a Patagonia theme, and we have to admit, it's only going to get more obvious as you peruse the rest of this list. We appreciate that Patagonia is committed to ethically and sustainably made clothing, and we love how they're always trying to do better. This Storm10 Jacket is exceptionally durable, meaning it won't end up in a landfill as quickly as cheaper jackets, it's made from 100% recycled nylon, and you can check out Patagonia's Footprint Chronicles to see all the suppliers involved in making this jacket. Sustainability aside, it's also an effective rain/wind jacket and self-stuffs for easy packability.
A denim jacket will never go out of style (save a scenario where we all start to wear those shiny jumpsuits sci-fi movies love so much) and adds a surprising amount versatility to your wardrobe. Throw it on, and no one will know you wore the exact same shirt and pants combo the day before (and the day before that, and maybe the day before that). While denim production isn't usually very sustainable, Everlane does a nice job keeping the process ethical and transparent.
Proof offers various styles of sunglasses for you to choose at your liking. All styles are handcrafted from sustainable materials ranging from FSC-certified wood to repurposed skateboard decks. They also give back to various social causes while recycling your old eyewear for 40% off your next pair.
Productivity & Tech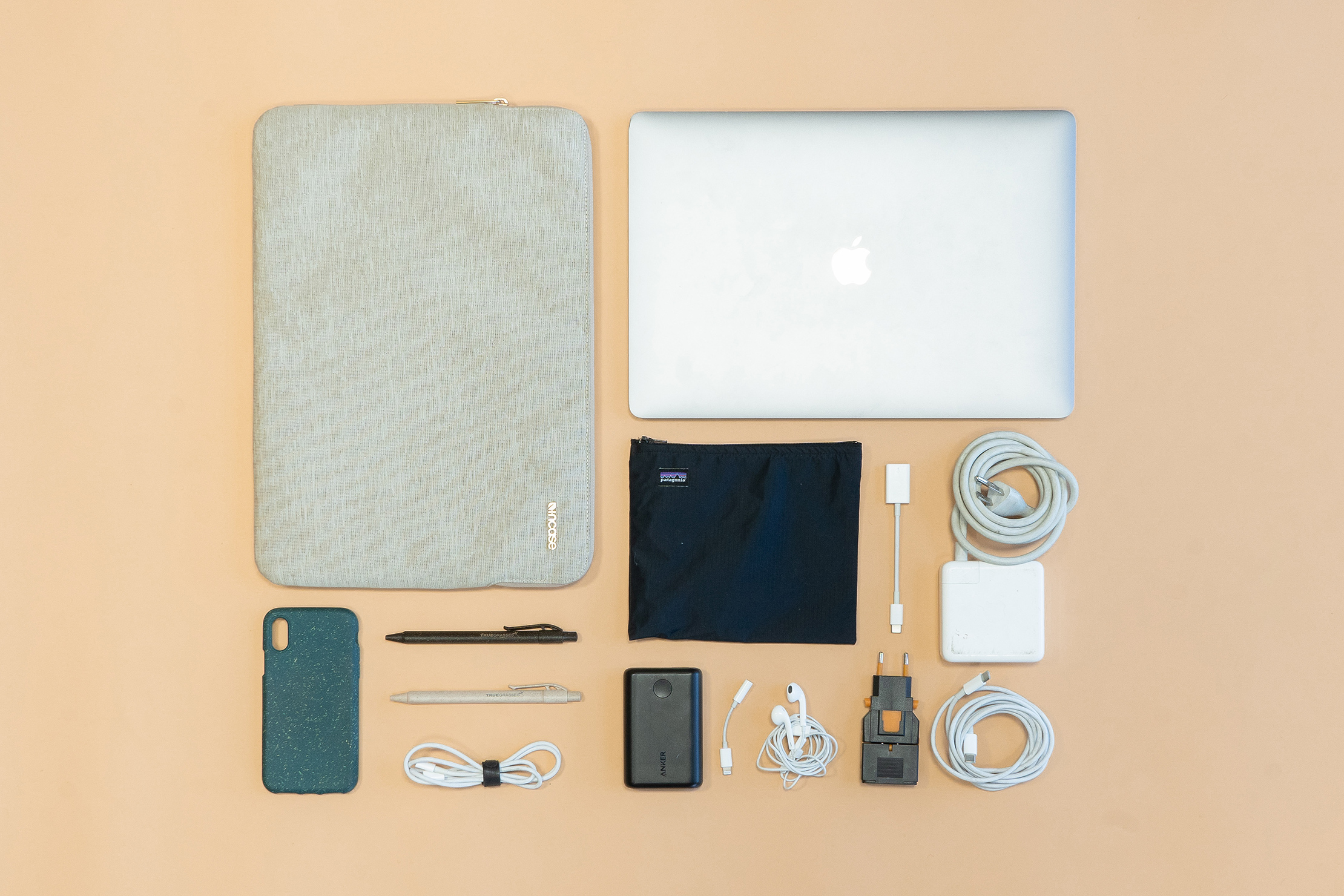 If you're looking to live as sustainably as possible, it would almost certainly mean living without tech gear. Technology like laptops and cell phones contain all sorts of plastics, chemicals, and other not-very-fun-or-sustainable stuff, but we'll spare you the details. (If you are looking for more details, we're big fans of The Story of Stuff—which gets into all of that and more.)
But if you're looking to live and work abroad, there's no getting around it. You'll need some tech gear—and we get it! Money is nice. So is the internet.
The items below are by no means "sustainable" and you will likely not be saving the earth by purchasing them, which is undoubtedly a huge bummer. As far as we're aware, sustainable tech gear just doesn't exist…yet. Fingers crossed.
But in this section of the list, we are going to help you choose minimal tech gear to get you through. The same thing goes for tech gear as it did for clothing—purchase second-hand or purchase durable items that will last for years to come. This method of purchasing responsibly will help you purchase less and send less to the landfill.
If you're on the outlook for more tech gear, we'd suggest taking a look at our Digital Nomad Packing List where you can find specific adapters and more. It offers the most minimalist, durable options out there.
This is a sustainability staple and something you should definitely get your hands on for your next plane or train ride. The book covers everything from textile factories to the relationship between tech and our health. If you're traveling for longer than it'll take you to finish it, we recommend donating it while on the road and finding a second-hand bookstore to grab your next read.
For jotting down notes on the road! The pages are made of 100% recycled paper and 30% post-consumer recycled fibers. The cover is made of 85% post-consumer and 15% post-industrial recycled materials. The result? A fully recyclable notebook that you can feel good about getting rid of when the time comes.
A pen is great to bring along for filling out postcards on the road or making quick notes of that famous restaurant you need to visit at your next stop. The Pilot B2P (Bottle To Pen) is made from 89% recycled plastic bottles and comes in a variety of ink colors. They're also refillable so you don't have to toss your pen when the ink runs out.
You don't need to go out and buy an iPhone, and you don't have to buy a new phone at all if you've already got one. Hell, you don't even need a smartphone! (But they're pretty damn convenient, let's be honest.) The majority of our team uses iPhones, which is why it made this list. We are not claiming it's sustainable, it just works for us.
This case is one of our favorites to date. It's nice and grippy (meaning no dropped phones) and is 100% compostable. This is pretty unique as far as phone cases go, and we've been pretty jazzed about its performance.
While this isn't necessarily sustainable, you'll need an adapter when traveling abroad with any tech gear. In that case, we suggest this adapter as it has lasted our team members five years and counting. Plus, it can handle any outlet you might encounter.
One small simple pouch made from up-cycled Patagonia rainwear jacket fabric. We've found keeping all our tech chargers and adapters in this can be mega helpful when on the road. Plus, it's pretty rad that this one is made from an old rain jacket. Kudos, Patagonia.
Incase's BIONIC Line strives to achieve higher environmental standards through materials made from recovered plastic pollution. While it may not be the most sustainable option out there, we applaud and enjoy the soft interior lining keeping our laptop scratch-free during travels.
Like we said before, if you really wanted to be the most sustainable individual out there, a laptop just isn't in the cards. But like we also said, we understand that it's the 21st century and many people—including us—make a living doing what they do from a laptop on the road. This is our favorite option that has lasted us through the years. Depending on your work, you may be able to get by with a tablet or netbook—meaning fewer materials and less waste. You can also find many second-hand or refurbished options online.
A classic pair of earbuds with a good old-fashioned 3.5mm headphone jack. We've decided to keep it old school on this list because these headphones are less intensive to produce than wireless headphones and they can be easily replaced anywhere in the world. But as with many items on this list—use what you've got.
Again, not too sustainable here either. Anker generally makes quality products that last a long time and it's great to have the option to charge devices while you're on the road.
Pairs well with the MacBook Pro, because having a fully charged laptop is generally preferred.
A standard adapter from Apple which is unfortunately necessary to use older USB products that aren't USB-C yet.
This is (unfortunately) necessary if you have a newer iPhone. We've gone for wired headphones in this list because they're cheap, easily replaceable, and less intensive in terms of plastic, metals, rare earth minerals, etc. However, even if you're going the Bluetooth route, we'd recommend grabbing one of these in case something goes wrong. Wired headphones are easy to find anywhere in the world.
Charging your phone is cool. This will let you easily do that through your computer, meaning no bulky phone chargers and no extra plastic. This is a simple hack for any eco-friendly or minimalist traveler: ditch the brick and just charge everything through your laptop.
Toiletries & Personal Care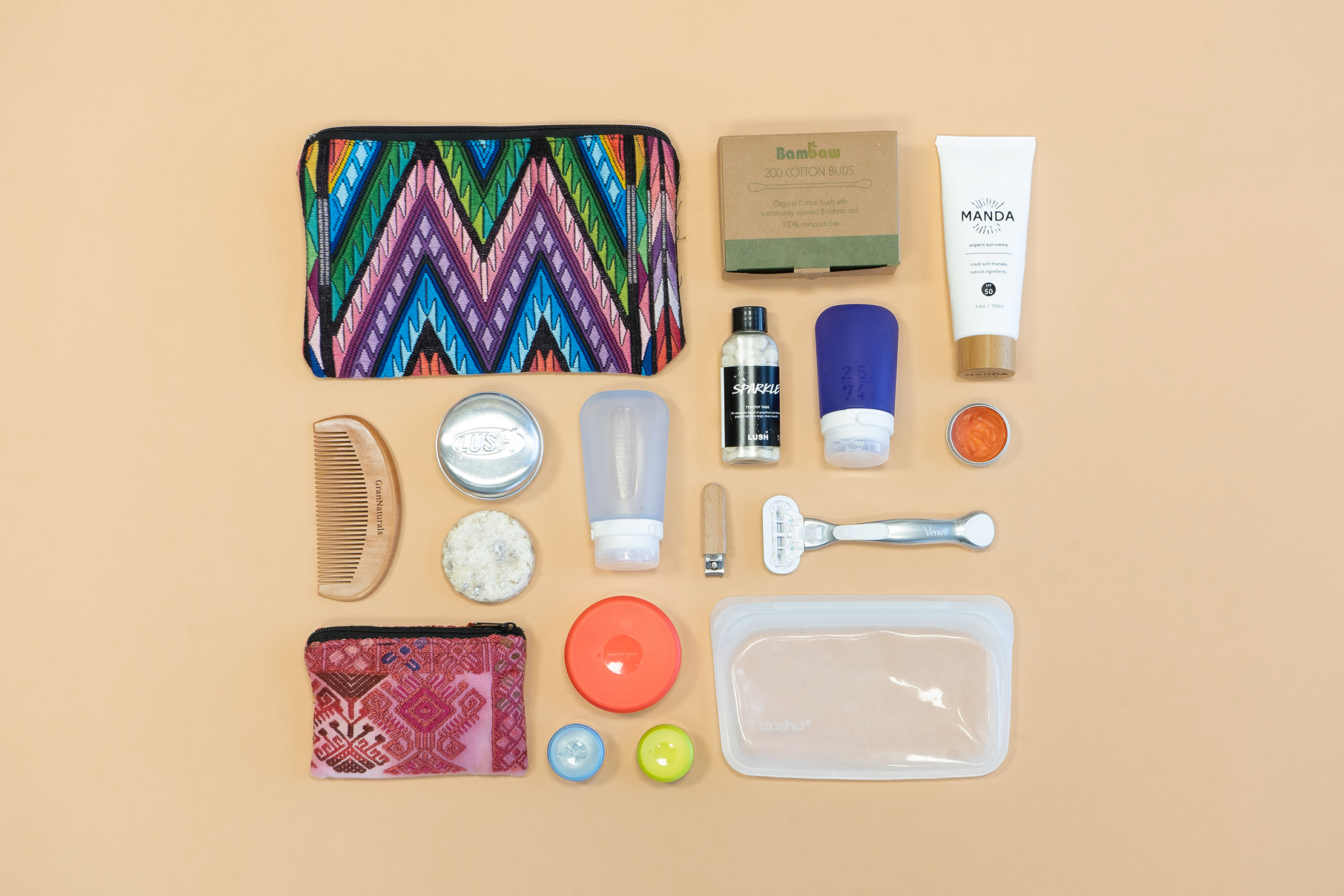 Travel-sized toiletries can quickly create a massive amount of waste. Between tiny shampoo bottles, plastic toothbrushes, and even dental floss—this stuff can add up quickly.
If you're conscious of the waste you're creating while on the road or traveling for so long that you have to buy multiple single-use plastic bottles, we highly recommend checking out some of the following solid products that last longer while still keeping you clean and tidy! Also, because almost everything in this part of the list is solid, you won't have to pull out your toiletries every time you get to the airport.
Hiptipico's Travel Pouches are part of their Small Business Collection. This collection supports local Guatemalan businesses while preserving Mayan culture and tradition through creativity and handmade passion. You'll feel good putting your toiletries in here, and they look damn good too (if we don't say so ourselves).
Certified organic, fair trade ingredient, natural deodorant handcrafted in the USA. Plus it's aluminum free, paraben free, sulfate free and plastic free. Win, win, win, win. You get the point. Plus, they've got travel-friendly sizing.
While your deodorant may get the job done, sometimes you just want to smell extra nice while on the road. Lush offers a small solid perfume that is perfect for travel. No need to worry about this one spilling all over your bag!
Ladies. This little packable reusable pad is a true game-changer. We recommend grabbing the black version, that way you're free of stains while on the road for extended periods of time, and your undies will last longer too.
Another game changer. Forget tampons and switch over to menstrual cups. You will save items going to the landfill, plastic applicators, and if you're on a 13-hour bus ride in Nepal during that time of the month, this will come in extra handy. Pair this with your Lunapad and you're set. No more disposables.
We're going to be honest with you here—we haven't found a great eco-friendly travel razor. Sure, you can find some great zero-waste razors for at home, but airport security doesn't allow many of these due to the removable razor blades. We are diligently searching and hoping for an alternative. Until then, we will continue to use what we have for as long as possible.
Handmade in the USA, this organic, natural deodorant keeps you smelling fresh all day long. Seriously, it works! Plus it's aluminum-free, paraben-free, phthalate-free, sodium laureth sulfate free, triclosan-free, propylene glycol-free, and cruelty-free. But it's not free from animal products—beeswax and honey are both on the ingredients list.
Vegan and smelling subtly of sweet orange and sandalwood, this cologne is perfect for when you want to smell particularly nice (perhaps on a long flight where you'll be sitting next to a stranger for eight hours?). Since it's solid, you won't have to worry about it spilling and drenching your stuff in a not-so-subtle cloud of fragrance (looking at you, liquid cologne) or about getting flagged at airport security. Win-win!
A solid razor from a company focused on lowering its environmental impact. This razor has a natural bamboo handle, un-chromed metal, and packaging made from recycled materials and environmentally-friendly inks. Plus, its flexible head and lubricating strip make for a clean, smooth shave every time.
While marketed as a cosmetic bag, this sleek-looking vegan pouch is a great place to stash toiletries. Matt & Nat has a vegan, do-no-harm ethic, guided by the tagline "Live beautifully." We don't know if buying a bag will help you live beautifully, but it will help you carry your toiletries more beautifully, which is close enough.
Fun fact: Silicone is naturally biodegradable if burned properly. These should last forever but when in doubt, recycle the top and burn the silicone. These work great for things like face wash or a bit of coconut oil deep conditioner (a treat after traveling for long distances).
Buy in bulk and use these little guys to travel lighter. While this is plastic, it's still a better alternative than buying single-use plastic containers. We usually bring one along for vitamins.
In our opinion, these are a must when traveling sustainably. You can put your liquids in them when traveling through airport security or stash some snacks for the road. These are made from 100% pure platinum silicone, they're non-toxic, and they're microwave safe! A true OG.
You can buy a tube of these and bring a few for the road. You never know when a Band-Aid may come in handy. These are made of 100% organic bamboo fiber and contain zero chemicals.
Ditch the plastic and grab a wooden comb. Nowadays, there are quite a few wooden or bamboo combs on the market, and this is a small handy one we've used on some past trips. In our experience, wood will last a whole lot longer than plastic as well.
Biodegradable handle. Plastic-free packaging. Non-toxic ingredients. We're big fans. To top it off, this toothbrush can stand up straight on its own, making it perfect for any bathroom you might encounter.
We hate to say it, but there aren't a ton of sustainable nail clippers. We recommend getting a great pair that will last you for years to come, and this one here is our go-to. It's small, affordable, and has a built-in nail file that flips out for the times when clippers alone won't cut it. Well, they'll literally cut it, but...you know what we mean.
Say it with us: "No more plastic shampoo bottles!" It's time to eliminate plastic shampoo bottles from your life entirely by grabbing a Lush shampoo bar and round tin. This can triple as a shampoo, conditioner and body wash all-in-one. We've tested a few different solid shampoo bars out, but Lush is at the top of our list.
We're not going to lie, these took us a minute to get used to. But now having made the switch, we're big fans. It's said that around 1 billion toothpaste tubes are sent to the landfill every year. That sounds like a whole lot of unnecessary waste to us. Just pop one of these in your mouth, crunch it a bit, and then brush like normal. Make sure to save the jars, as well so you can reuse them!
Sometimes it's the little things that count—like hair ties. These are a plastic-free, biodegradable alternative to your average hair tie. We bring two along because you never know when one might come in handy. You also never know when you're going to lose one.
Compostable floss with a refillable, reusable container. Small enough to bring along on all your travels and keep at home for use in the meantime.
Have you ever walked along the beach only to find tons and ton of small plastic cotton swab sticks? Cringe-worthy. We highly recommend using bamboo cotton swabs that are compostable and guilt-free.
Protect your skin and coral reefs. MANDA utilizes Thanaka—also known as nature's best solution for sun protection—to protect the environment and reduce zinc oxide from damaging coral reefs around the world. They also use a sustainable bio-plastic bottle derived from sugar cane. Grab the bottle for use at home and squirt some into a humangear GoToob+ for the road.
A towel for both drying and downward-dogging, made from 30% recycled plastic bottles. Available in three different sizes, the smaller one can be used to mop up your sweat at the gym, while the extra large fits over most yoga mats (and can be used as a mat in a real pinch). This towel also dries three times faster than cotton towels and can be rolled up for easy packability.
Miscellaneous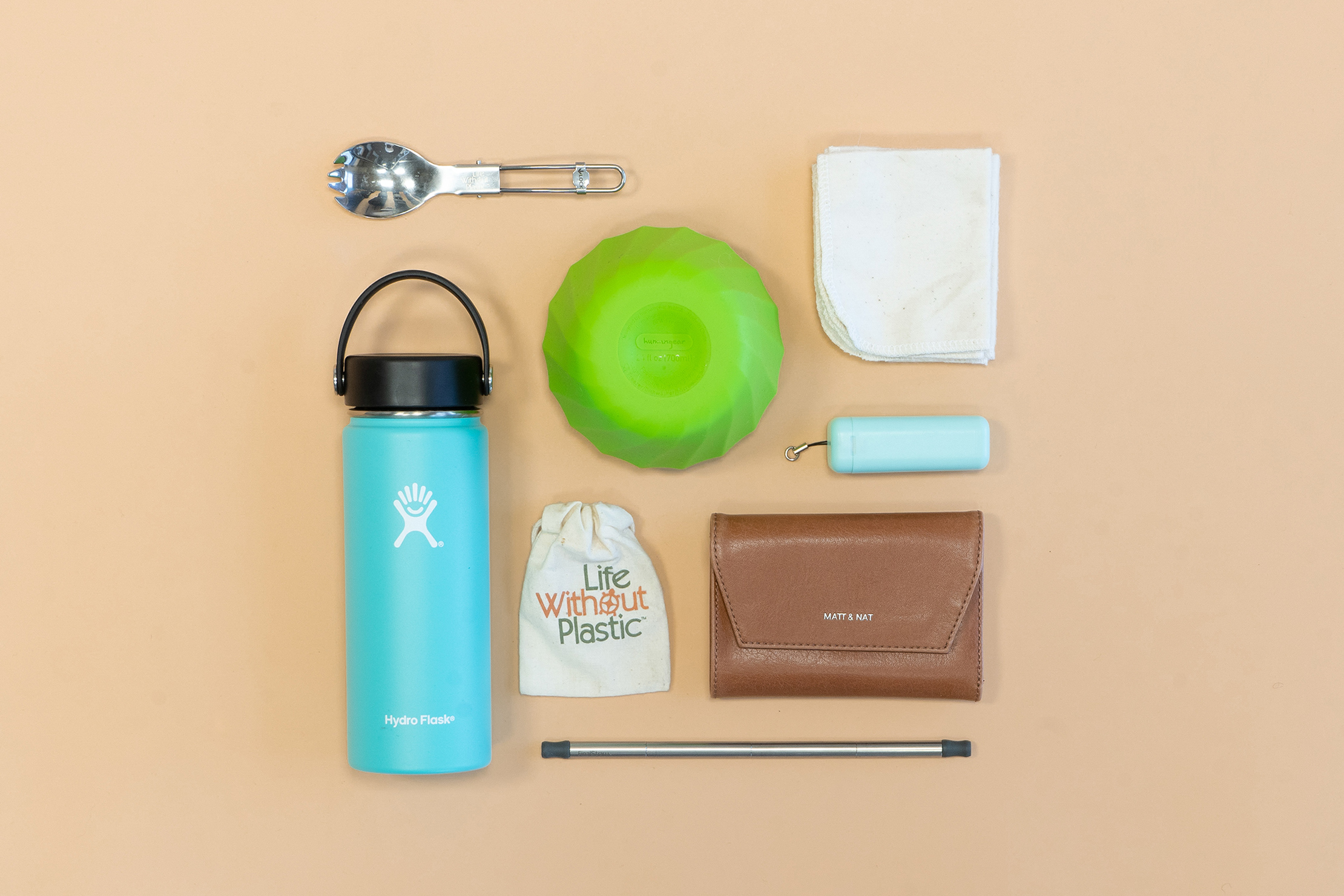 Aside from the essentials, we have a couple more recommendations to bring along to help make your travels a bit more sustainable. These are little items that will only help lessen your impact and great ideas to share with friends! These may even save you money on the road, and definitely will help you from tossing things to the waste bin.
Committed to not using leather, Matt & Nat offers an eco-friendly spin at leather-look alike accessories. We've been using their wallet for cards, cash and coins. The lining is even made from 100% recycled plastic bottles.
The perfect wallet for when you want to own a traditional leather bi-fold wallet but don't want any of the guilt. Matt & Nat products mimic leather but are 100% vegan. The folks at Matt & Nat are so committed to the vegan lifestyle, they even celebrate team members' birthdays with vegan cupcakes! We can get behind that.
Reusable water bottles are the way to go. If you're not traveling with a reusable water, re-evaluate your choices and save yourself some money. No one wants to spend $6 on an airport water bottle. Hydro Flask offers a lifetime warranty on their bottles. Plus they're BPA and phthalate free.
It's right in the name—life without plastic. This spork is made from food-grade stainless steel with a carry pouch made of certified organic cotton and printed with vegetable-based inks. It also folds up to 3.5 inches. Next time you're grabbing food to-go refuse the plastic cutlery and use this!
Did you know that Americans use enough straws to wrap around the Earth 2.5 times every day? Yeah, that's what the experts say. Basically, straws suck. You've probably seen at least one global "stop sucking" campaign and this little collapsible straw can help you do just that. Clip this earth-friendly alternative onto your keys or bag and never use a plastic straw again.
Made in Oregon from 100% organic cotton, these washable wipes will do wonders while on the road. From cleaning your face in the airport bathroom after a long flight to wiping up some spilled food on your pants, the list goes on and on. It's basically a reusable napkin—but better, because you don't have to throw it away and create waste. We highly recommend picking one or two up for the road.
This bowl can be bent up and packed away in your bag easily, as it compresses down to just about any shape you want. We've found it super handy when grabbing food from street carts—just kindly ask the person serving you to place your food in the bowl, and voila! You've just saved some single-use plastics! Give yourself a pat on the back. Made from food-safe BPA-free, PC-free, phthalate-free silicone.
This massage ball helps eliminate pain so that you can spend even more time exploring. Use it to relieve muscle tension on a long hike or after a full day of walking across uneven brick pavers in the city. Made with cork from responsibly managed forests, this ball is an easy way to take care of your body on the go while also taking care of the environment. Plus, it's lightweight and small, so you'll hardly even notice that it's taking up some extra space in your pack.
So there you have it, our Earth Friendly Packing List. We hope this list will guide towards a more sustainable journey.
🔥 GIVEAWAY TIME 🔥
We've teamed up with Minaal to give away a selection of top travel gear! Check it out →